Home » Produse » Anthem » Anthem STR Preamplifier
Anthem STR Preamplifier
Descriere Anthem
Construind de peste 20 ani preamplificatoare, amplificatoarele și receiver-e, Anthem oferă cele mai avansate instrumente disponibile pentru conectarea, controlul si optimizarea unui sistem audio.
Inginerie audio inovatoare, sunetul de un rafinament aparte si un nivel fără precedent de fiabilitate și funcționalitate fac din Anthem unul dintre cei mai importanti jucatori pe piata de profil, greu de concurat de catre oricine.
Mai multe detalii...
Conversion from Digital to Analog
STR Preamplifier includes a high-resolution preamplifier and a digital section, with support for asynchronous USB up to 32-bit/384 kHz PCM and DSD 2.8/5.6 MHz sources. This high-quality USB audio input transforms digitally stored audio from your Windows or Mac computer into warm, natural analog sound.
Anthem Exclusive Innovations
The STR Preamplifier includes the newest and most powerful generation of Anthem Room Correction (ARC), with 50% more processing power than any other version of ARC. This proprietary calibration tool, with its easy-to-use interface, automatically shapes the acoustic signature of your speakers for the best possible sound quality in your unique listening space.
This is especially important for the lower frequencies.
Other innovations include a high- resolution preamplifier and digital section, which supports asynchronous USB up to 32-bit/384 kHz PCM and DSD 2.8/5.6 MHz sources, and uses signal processing that employs 64-bit accumulation and feedback to preserve the finest detail in the music and to avoid degradation. The digital to analog conversion section was designed to faithfully duplicate all the sounds in the original source.
To help achieve that effect for all input resolutions, a dedicated asynchronous 32-bit / 192 kHz sample rate conversion is used. This way, the DAC stage's anti- imaging filter is optimized for this sampling rate alone, resulting in an audio frequency range that's unmatched in purity, regardless of input format. In the process, the data gets reclocked, providing immunity from performance-marring source jitter.
Through the rest of the DAC circuitry, thin film high precision resistors and super low noise op-amps are used for lowest distortion, lowest noise, and most transparent sound. Other DAC units may boast about the performance of the DAC chip all by itself, but we view DAC stage design as a whole — there are no crippling bottlenecks anywhere in the DAC stage of the STR Preamplifier.
Aside from its cutting-edge technology, one look tells you that the STR Preamplifier is a different animal altogether. The display on the front panel gives you surprisingly easy control through an easy to navigate setup menu, and the luxurious and elegant new contemporary design is available in two beautiful finishes, Black or Silver.
More Subwoofer Options
The STR Preamplifier gives you more options for subwoofer configuration. Use one subwoofer or two for both channels, or two independent right-and-left channel-specific subwoofers. The bass management in conjunction with ARC is uniquely engineered for seamless subwoofer blending, achieving incredibly accurate and lifelike performance.
Moving Coil and Moving Magnet Phono
Anthem has also taken into consideration the resurgent popularity of vinyl records, and has included separate inputs for moving magnet and moving coil cartridges, with the phono section completely shielded to maintain a clean signal. The transparency and refinement of the STR Preamplifier reveals the hidden magic of classic media.
In addition, the phono curve is continuously adjustable for proper playback of any record that predates the RIAA equalization standard.
Home Theater Bypass
The concept of combining a stereo preamplifier with a home theater system is taken to a whole new level. The STR Preamplifier supports two subwoofer channels in addition to the two fronts. XLR as well as RCA connection is provided for all channels, and HT Bypass mode engages while the preamp is on standby. This way, you don't have to turn it on when watching movies. To allow the purest signal path, relays are employed to hard-wire the input jacks to the outputs — the STR Preamplifier essentially becomes a straight wire.
Anthem Room Correction (ARC™)
A True Scientific Solution to the Problems of Your Room
What is ARC?
Anthem Room Correction (ARC™) is a proprietary digital signal processing system that allows you to quickly and accurately optimize the performance of your audio equipment to better suit the unique parameters of your room. By listening to your room's acoustic signature, ARC can tune your equipment to correct for the performance-robbing effects (reflections, resonances, standing waves, etc.) of the various surfaces and other obstacles in your room. You'll actually hear the difference ARC makes.
Descriere Produs
Folosind tehnologii avansate precum "Anthem Room Correction(ARC)", circuitele de protectie, control, monitorizare si anexe  non invazive "Advanced Load Monitoring (ALM)", componente interne selectate cu atentie, dintre care multe sunt proiectate exclusiv in-house, Anthem este la ora actuala unul dintre producatorii ce impun standarde în loc să urmeze tendinţe
"Anthem's STR Integrated amplifier brings the benefits of the company's excellent ARC room correction processing to a stereo-only component. And not just any stereo-only component, but a powerful, feature-packed unit with a 200 watts-per-channel amp, a DSD-compatible DAC, and separate moving magnet and moving coil phono inputs." – Carlo Lo Raso
"Normally, I have a hard time listening to recordings for a period of time after enjoying the live experience, maybe for a day or so. Yes, it's probably setting an unnecessarily high bar but I guess I'm looking for the sort of emotional connection I get from flesh-and-blood musicians in an acoustically favorable venue when I sit down in front of my audio system. I got more than a little of that when listening to canned music with Anthem's STR electronics—it seemed that I wasn't nearly as refractory to the appeal of my favorite recordings. That's a distinction, for sure." – Andy Quint – theabsolutesound.com
"When combined, the STR components present the music with such impact, drive, and unbridled live-music-like enthusiasm that it is impossible to not be moved by it." – Christiaan Punter
"Anthem's STR Integrated amplifier brings the benefits of the company's excellent ARC room correction processing to a stereo-only component. And not just any stereo-only component, but a powerful, feature-packed unit with a 200 watts-per-channel amp, a DSD-compatible DAC, and separate moving magnet and moving coil phono inputs." – Carlo Lo Raso
"The STR preamp is perhaps one of the most flexible and diverse two-channel preamplifiers I've ever seen. It offers state-of-the-art performance in every mode of operation handling analog and digital sources with equal ease. The connection options the STR preamp offers are virtually limitless and the home theater bypass mode is a Godsend for those wanting to merge home theater and two-channel systems together in perfect harmony. The STR amplifier puts forth impressive power figures for an amplifier in such a reasonably sized package that is refreshingly manageable to transport. The system works seamlessly together to reproduce music with fidelity at the very highest level, especially if care is taken to set up ARC properly." – Gene DellaSala
"Simply put, it's one of the best sounding two-channel preamplifiers I've ever heard. Beyond switching your audio inputs and controlling your audio system's volume, it includes an absolutely top-notch DAC, a nifty phono stage, and one of our most favorite room correction solutions all in one sexy-ass component. Feature wise, it pushes the limits of what you can expect to find in the stereo preamp category."– Myron Ho
"With the STR pre-amp and power amp, Anthem has successfully migrated its innovation, digital signal processing expertise, room correction know-how and commitment to quality into the notoriously difficult high-end stereo environment. The pre-amp's versatility and the power amp's tremendous reserves make for a satisfying partnership, while also delivering as far as musical accessibility and engagement are concerned." – Deon Schoeman
Push the Power of Audio Control.
The revolutionary STR Preamplifier is a new type of audio component that gives you more control and more refinements, including more connection options and more advanced technology, in a single, easy-to-use component.
Designed, engineered, and Crafted in Canada, the STR Preamplifier combines the benefits of an advanced preamp with the power of a processor, as well as functions like leading-edge DAC, onboard Anthem Room Correction (ARC™), customizable bass manager for mono or stereo sub outs, MM and MC phono inputs—far more than the average preamplifier.
And it includes new generations of many of Anthem's award-winning, audiophile-loving, review-praised digital signal processing innovations, delivering a noticeably higher level of audio performance realism.
The new STR Preamplifier drives all of your entertainment options today, and tomorrow.
High-resolution preamplifier section
Anthem Room Correction (ARC™) optimizes in-room response for perfect sound
Bass management for two subwoofers, in mono or stereo
Up-sampling of lower-resolution sources to 32-bit/192kHz
Asynchronous USB Audio Input supports 32-bit/384kHz PCM, and DSD 2.8 / 5.6 MHz sources
Coaxial, optical, and AES/EBU inputs up to 192kHz
MM and MC phono, balanced XLR, and single-ended analog inputs
Six pre-RIAA curves plus adjustable settings for playing older records accurately
Analog Direct mode
Adjustable analog input levels to match sources, minimize noise and prevent distortion
Graphic front panel display for easy setup and navigation
Balanced output for all channels including the two subs
Home Theater Bypass Mode works without having to turn power on and includes RCA/XLR input for two subs
Create up to 30 virtual inputs for setup flexibility
Controllable via Ethernet, RS-232, or supplied IR remote
Available in Silver and Black Finishes
Crafted in Canada

Product Description
Anthem STR Preamplifier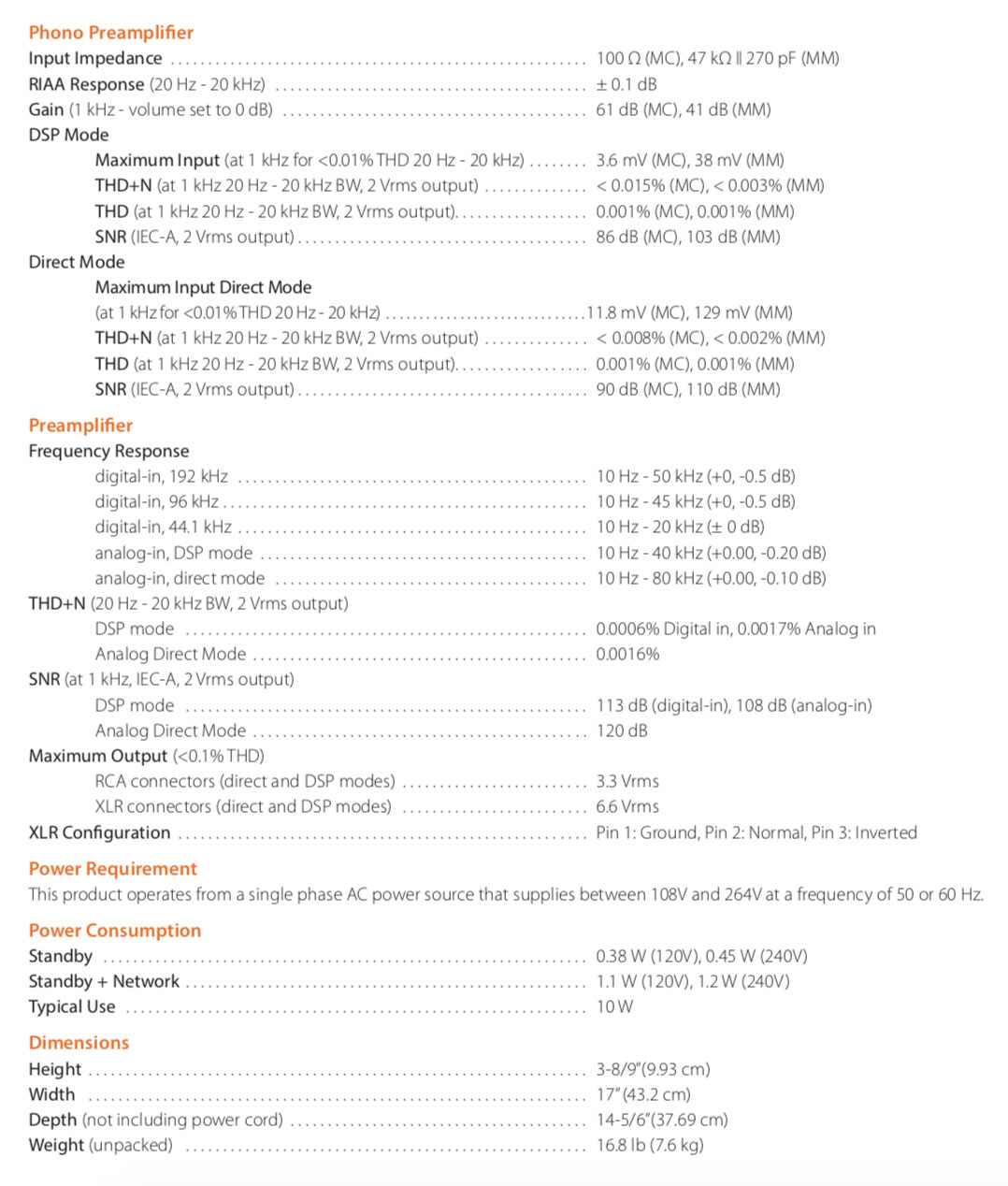 Informații suplimentare
| | |
| --- | --- |
| Prod | Preamplificator Stereo |
| Culori Anthem | Black, Silver |
Anthem STR